Call Now For Home Foundation Repair Near New Boston Texas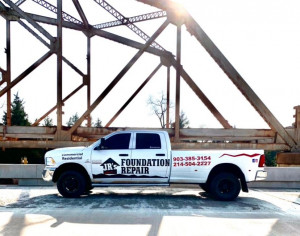 If you're dealing with home foundation problems in New Boston, TX, call in the experts at JR's Foundation Repair. When it comes to home foundation issues, it is important to seek professional help.
Do you have structural problems on a home you are trying to sell or live in? Signs indicating possible foundation problems include:
Cracks and gaps in the drywall or between the wall and the ceiling
Wide cracks on the outside cement steps, outside concrete finish, chimney, or outside walls
Doors and windows that don't open properly
A leaning chimney
Cracked tiles
Gaps around doors
Sloping floors
Bowed basement walls
Water in the basement, crawl spaces, or around the perimeter of the home
Best Foundation Repair Contractors Near New Boston
Call JR's Foundation at (903) 385-3154 for all foundation repair in New Boston. We have in-house foundation repair contractors and professionals who know everything about home foundation issues and how to fix them. We specialize in a wide range of foundation repair services including: residential and commercial foundation repair, Drain correction, New construction pier, and Pier and beam foundation repair.